SAP Support and Maintenance Services
Outsource your SAP Support to Amity Software
Business environments are getting more complex. Business requirements are becoming more specific. SAP ERPs smoothens these patches. But these applications require consistent support for uninterrupted functioning. To maintain the ongoing SAP landscape, the businesses require great SAP S/4HANA support services.
Businesses look for ways to reduce the maintenance cost of their SAP support and Amity Software helps in that.  We also team up with the existing support team of your organisation with pre-defined SLAs and professional ticket management to arrive at on-time solutions.
Amity SAP S/4HANA Support Services – What Do We Offer?
Partner with Amity to Maximise Your Investment
Amity Software Systems Limited is a CMMI DEV 5, ISO 20000-1:2011, ISO 27001:2013, and ISO 9001:2015 certified company and is a leading SAP consulting company. We hold more than a decade of experience in implementing SAP products, providing uncomplicated upgrade and support, and migration with our SAP consulting services. We understand that the business environment is complex, is highly commoditised but what keeps us a step ahead of others is our customer-centric approach. The only thing we keep at the top is to deliver results for your business.
Customer-centric
We follow a customer-centric approach and understand their requirements and provide ideal solutions.
Result-driven outcomes
We, at Amity, focus on adopting the right approach in order to get the desired results.
End-to-end capabilities
Our team is highly experienced and well-capable to meet the customers' expectations and work accordingly.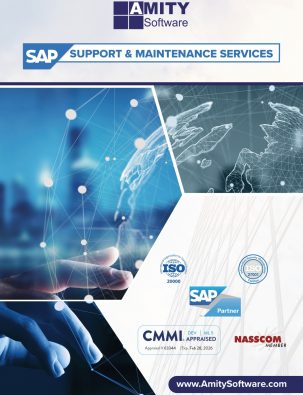 Dedicated support manager for each organisation
Our in-house experts offer quality support to the customers that help in running the business smoothly.
Customised support packages
You can opt from our multiple support packages as per your business requirements.
100% customer success rate
We guarantee top-quality SAP support and maintenance with 100% customer satisfaction.

Get Professional SAP Support Services from Experts
We collaborate to overcome the technical issues faced by the company while working on the SAP system. We listen to the clients and offer accurate solutions to them.

Frequently Asked Questions
How do I contact SAP support?
You can contact Amity Software for all your SAP support queries. We are a licensed SAP partner with expertise in S/4HANA 1909.
How do I raise my SAP ticket?
SAP ticket generation with Amity Software is a hassle-free process. You can simply send your query to our team and our executives will get back to you.
What are SAP support services?
SAP services are dedicated support and maintenance services for businesses running SAP solutions at an affordable price.
How to access Migration Objects Documentation in S/4HANA Migration Cockpit?
If in S/4HANA Migration Cockpit you have created a new migration project, your Migration Objects cannot be found.